The many aspects of Terry L. Gore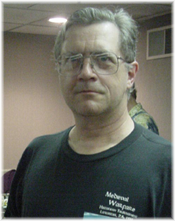 Avid Wargamer, Passionate Historian, Talented Teacher, Skilled Musician and Music store manager, Loving Father and Grandfather. These are but a few of the titles that would begin to describe a person who has been to us a friend, fellow gamer and overall likeable human being. Terry L. Gore lost his long and hard fought battle with cancer on October 1, 2005. He leaves behind a legacy which we count ourselves fortunate to be associated with in however small a way. This note is our way of expressing our gratitude for all this man has done for us during our brief, five or so years of association.
A search of this site for Terry's name brings up close to two dozen results and with good reason. We have had so much fun playing rules Terry designed that it is but natural that the contents of this site reflect the same.
Ancient/Medieval Warfare
We first found out about Terry Gore's Ancient/Medieval Warfare more than five years ago. We were looking for an alternative to DBM and a search on the Internet yielded good reviews about SAGA's 'Warfare' family of rules. We found them well priced and after a few test games, quite to our liking. On a personal note, the combat mechanics which Terry designed for these rules are the best that I have ever come across for the Ancient/Medieval period. Soon we were playing single games and writing up reports about them. The single games soon gave way to a full fledged campaign which turned out to be such tremendous fun.
We learned later that wargaming was but a part of the broad spectrum of activities that Terry enjoyed. SAGA was very much a labour of love for Terry and his friends who ran it. It was surprising to see how responsive to his users Terry was throughout - the customer support was of a level one would expect (though ironically not often get) from a big operation. We used to report our experiences to the various groups that Terry frequented and we were always amazed by the promptness with which he replied to our queries. No question however simple or silly went unanswered.
Working with Terry
Sometime in late 2001, Terry asked me if I could help with a couple of maps he was doing for his upcoming scenario book 'Campaign for England 1066'. Terry liked what I did and this lead to more maps for two more scenario books. I consider it my honour to have been able to work with him, to repay in whatever small way the tremendous contribution this man has made for the hobby.
Remembering Terry
How does one best remember someone like Terry? I will miss him; and yet the memories that I have of him are full of joy. They are varied - all those knightly charges on the tabletop, manoeuvres, retreats, the fun and laughter, the happy exhaustion of playing three straight games a day, the endless post game discussions, the thoughts which come up in many a conversation all these years later - the list goes on. But they all have a consistent theme - wargaming. Each game we play, each moment we enjoy in the pursuit of the hobby will be a befitting tribute to Terry L. Gore.